The holidays are upon us which means pushing to book parties and sell gift cards in an effort to boost yearly numbers. The crunch can be daunting from a marketing perspective, especially with gift cards sales when everyone is offering some sort of promo. Digital gift cards make it easy to set up and offer promos to your guests, online.
The traditional way of offering promos usually entails a guest coming into the business to buy a physical card and walking away with a tangible item carrying a stored value. The promo could be adding extra value to the card, a separate promo card or coupon with an expiration date, or a discount on a current bill when the card is added on. There are many ways to give a bonus to those guests buying gifts, but what is the best way to handle this online with digital gift cards?
With Focus e-Gift you have two promotional options that can be set up to offer discounted digital gift cards. 
Predetermined Values with Denominations
Example: Get a $100 gift card for $75.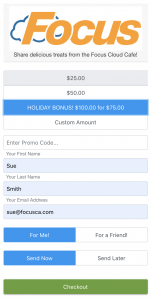 What dollar amounts should you offer the bonus at? Think about your guests and their check average. How much are they willing to spend and what will feel like a good value to them. You want to make sure that you give enough of a bonus to entice a purchase but don't want to give everything away. 
If your check average is $40 per person, then a $50 gift card may only cover one person's bill. If I entice them to pay $75 or $80 for a $100 gift card then they are able to either splurge on dinner or cover the cost of 2 people with that gift card making it a perfect gift or just value savings for the purchaser at a business that they are already a patron of.
With predetermined values, any guests going to purchase a digital gift card will have access to the promo. 
Promo Codes for Flat Discounts
Buy $100 or more and get $25 off.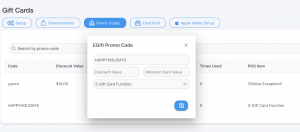 If you are looking for a solution that only allows certain guests like say maybe those that visit in person and see the offer on your guest receipt or maybe a person on your marketing email list, then promo codes are the way you want to go.
A promo code lets you insert a code that has to be known by the purchaser at checkout to receive a discount on their gift card. So I could say that the code 'HAPPYHOLIDAY' takes $25 off the purchase price of any gift card that is $100 or more. This gives the customer flexibility in their purchasing options but only allows for a flat discount amount so you can control some of the expense. 
The great part about digital gift cards is they can easily be delivered electronically at any time, they allow revenue to be generated without labor, and the recipient can easily use their card online or in-store.
Want to set up Focus e-Gift? Contact us today!