In a sea of contactless payment options, there is one simple solution that any Focus user can turn on. MobilePay allows guests to pay any check or tab right from their own phone by scanning a QR code. 
MobilePay does not require any additional devices than your regular Focus POS system, nor do you need to retrain staff on different POS procedures.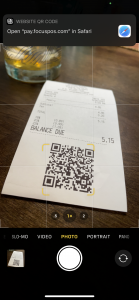 Print the guest's receipt and a QR code with custom footer text will appear at the bottom. They can scan the code with their phone using the camera if they want to pay from their device. When they do, they will be taken to a web page showing their check. Once they hit 'Pay My Check' they will be presented with tip options. You can define the preset percentages or allow a custom dollar amount. When they complete their payment process the check in Focus is closed to the FocusPay tender and the tip is automatically adjusted for the server.
MobilePay processes the transaction through an e-commerce account using Shift4 or another approved processor and may require account setup if you do not have one already.
Want to collect feedback from your guests? Survey options can be activated allowing guests to tell you more about their experience at the end of the check-out process. These are only shared with you and your team through the Command Center portal.
Want to set up MobilePay or learn more? Our team is here to help!